22 janvier 2017   Points noués
20 mai 2017  Couture appliqué inversé
Les Créateliers, Genève www.lescreateliers.ch
---
Workshop proposals
[column size="one_third" last="NO"]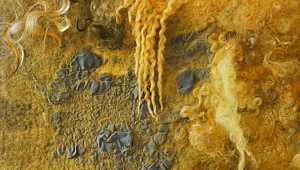 Botanic Felts
This felt making workshop explores ways to translate our sensations and observations of the natural surroundings into unusual organic felts. Using wet felting and nuno techniques, we will play with resists, and shibori stitching creating interesting textures and sculptural 3D shapes. Options for our organic felts might include wall hangings, 3D sculpture and textiles for clothing and accessories.
All level welcome
[/column]
[column size="one_third" last="NO"]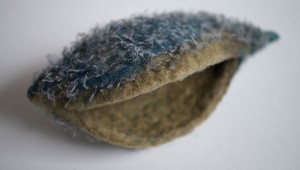 Not just another pod
During this workshop, participants will create a collection of small 3D sculptures inspired by nature or purely imaginary. They might even tell a story much like objects from a Curiosity cabinet. We will experiment with wet felting techniques to create hollow forms using resists. We will learn how to integrate fabrics, prefelts, and how to embed durable objects.
All levels welcome
[/column]
[column size="one_third last" last="NO"]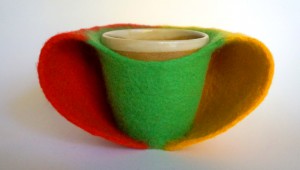 Mugmitts
Imagine yourself on a cold winter day drinking your tea, comfy and cosy, as if you were still under the covers… that's the inspiration for my Mugmitt.
During this workshop, participants will felt their own Mugmitt.
(hand-turned cups will be supplied at a minimal cost)
Some felting experience required
[/column]